"Viva Brazil!
Oba Oba is one joyous highlight
after another.
A celebration of Brazilian song
and dance with the infectious
rhythms of the samba, bossa nova
and chorinho, fleet-flooted and
undulating dancers, sumptuous costumes and even more sumptuous acres of incomparable, multiracial flesh. Brazil's high-voltage, sensuous dancers bring the audience to its feet."
Robert Hurwitt,
San Francisco Examiner, 1989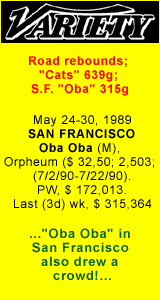 "Oba Oba is Sexy, Sexy!
A blast, a fleshy feast of Brazilian color and sound,
a tropical fantasy dipped in Vegas, a swirl of hot
candy colors and irresistible rhythms, authentic folklore
and hokey Hollywood, drumers, acrobats and leggy "mulatta" dancers shaking their lovely bum-bums
in dental floss bikinis."
Jesse Hamlin,
San Francisco Chronicle, 1989